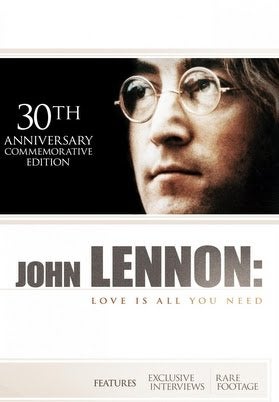 Cast: John Lennon, Yoko Ono, Paul Gambaccini, Julian Lennon, Cynthia Lennon
Review: John Lennon - Love Is All You Need is not so much a documentary as a series of recollections of Lennon the man. If you are looking for Lennon the mop-top or Lennon the Beatle, you need not watch this film. It instead focuses on John Lennon as a person, as told through archival footage, some newer interviews, and many news reports. The film aspires to be a great documentary, but it falls short of its goal. Instead we are provided with familiar scenes and familiar stories. There is little mention of Lennon's music, save for some brief Beatle references and remarks on his solo career. The majority of the film is based on the commentary of Paul Gambaccini, who, for the intents of this movie it would seem, is a John Lennon "expert." Going into the viewing, I was expecting new doors to be opened, to find new insight into John Lennon, or even to find a refreshing reminiscence of familiar history. I was sorely disappointed.
Where this movie falls short is in its execution. In trying to be a serious dissection of Lennon, it instead comes off as a ham-fisted, cold, and disinterested attempt at selling him as a complicated political touchstone for a far-gone generation. While John Lennon was an important figure of the 1960s and 1970s, Love Is All You Need seems to never really drive that point home. The worst thing I can say about a film is that it's boring, and this film is boring. The footage has been seen before, in such films as The Compleat (sic) Beatles, Imagine, and The Beatles Anthology. These movies are far superior to Love Is All You Need, and they spend more quality time on Lennon as well. Gambaccini takes more pauses than Paul Harvey, and the Yoko Ono footage is simply a rehash of what she's been saying since 1980. The Cynthia Lennon footage is taken from the early 1980s, and she resembles a long haired, British Hillary Rodham. There is nothing new or fresh about this, and that is unfortunate.
John Lennon - Love Is All You Need could be considered a must-have for the hard core and dedicated Beatles/Lennon fan, but only as a collection piece. If the fan is a true fan, he has seen this all before, and done much better. I can't recommend this film to anyone with even a cursory knowledge of Lennon, as it would not do the man justice and would leave the viewer disinterested and perhaps unlikely to explore this subject more. The Gambaccini interviews are plodding and dull, and the remainder of the interviews are just as stolid. Curiously, the only interesting interview bit was provided by Camille Paglia, when she lamented the loss of Lennon's uniquely British sense of humor. Which, of course, she attributed to Yoko Ono. If you want to learn about John Lennon, look elsewhere. There's nothing to see here.